There is a discussion, *Database Standards when using outside Contractors*, in a group that I have been watching and it got me to thinking…  While I have a set of standards (and a Model Database), I have not written them down.  So every time I need to ask a Subcontractor to do some work for me I have to rattle them off and hope I remember them all which always results in, "Oh, yeah, I forgot that one…".  So, why not just type them up?  Ahem, no answer for that except that I am doing it now!
You may think this is a waste of time and why bother… but consider the Developer coming in behind you.  I get a lot of business from people that already have a database that needs some upgrading or tweaking AND, I spend more time trying to figure out what everything does and/or where it does it then implementing their request because no Standards were followed.  And for you folks that think spending the time to fix the Captions on Fields and Labels is wasted, well, let's look at the example below…
If Text15.Value = 0 And Text16.Value = 0 And Text19.Value = 0 Then      nbr = Text17.Value      x = modRound.RoundToNearest(nbr, 10, vb_roundup)      Text193.Value = x Else      nbr = (([Text15] + [Text16] + [Text19]) * [Text17]) * (1 – ([Text181] * -1))      x = modRound.RoundToNearest(nbr, 10, vb_roundup)      Text193.Value = x End If
…enough said!
Now you're asking if all my databases follow these Standards… the answer is *No*.  However, the deviations were out of necessity not laziness.  Standards are great and help everyone, especially if multiple Developers are working on the same project, but sometimes there are legitimate reasons to digress.  When this happens make sure you tell everyone involved and document why and what you did.  And finally, the Standards…
General…
Use UNC Mapping

Refresh Links/Relink Module with a *Persistent Connected* form

Uncheck *Track name Autocorrect info*

Check *Use four-digit year formatting*.  You can change this on the form for data entry should the Client want two digit years

Uncheck *Show Smart Tags on Datasheets*

Uncheck *Compact on Close*, this has been known to cause corruption

When all done designing hide the Navigation Pane

Document any passwords and any other pertinent information (and honestly, we can skip the one on the Code)15
No ActiveX controls14

All Databases must have Version included the Caption of the Main Menu or Switchboard

All hidden fields will use #FF99CC as the Back Color

Uncheck *Enable Layout View*

Uncheck *Enable design changes for tables in Datasheet View*
Code (VB Editor)…
All Modules must contain *Option Compare Database*, as well as, *Option Explicit*.  (I have seen databases without either!)

Comment code

Error Handling and not *On Error Resume Next* across the board
No Wizard use2

Use UPPER CASE for all SQL keywords

Indent code for easier reading

Use continuation marks so I don't have to scroll all the way to the right to see all your code
 Tables…
Must follow my Naming Conventions1
Field Size convention and not the Access default3

Every table must have a Primary Key

The Primary Key should also be AutoNumber AND mean nothing to anything except Access

Child and Junction tables should also contain a Primary Key, as well as, appropiate Foreign Keys

No spaces, underscores and/or other wildcard characters in names16

Non-use of the *Field Caption* property at the Table level

Non-use of *Validation Rule/Text* at the Table level

Non-use of Smart Tags

No data entry performed via the tables11
 

Fields…

Must follow my Naming Convention1 and be consistent (Same name used across the Tables)5
Field Names must mean something, i.e.: no abbreviated names6
Non-use of Look-Up Wizard, Attachment and/or OLE Object4 and/or Hyperlink fields7
Reserved Words for Access and/or SQL Server not used
If you must allow Yes/No fields they should have a Default Value and not allow NULL's8
No spaces and/or wildcard characters16

No image storage in the Database

No unnecessary storing of calculated values9

Set *Allow AutoCorrect* to No

Access 2003 and lower remove the Default 0 (zero) that Access places on Number fields unless it will be needed
Forms…
My default colors is to be used unless otherwise specified by the Client

Main Menu or Switchboard – #FFFFFF

Main Forms – #E6E4DD

Forms used to filter or open Reports – #E3EBC7

Maintenance Forms – #F2F1EE

Allow Design Changes set to No

(added 11.8.2015)
 This…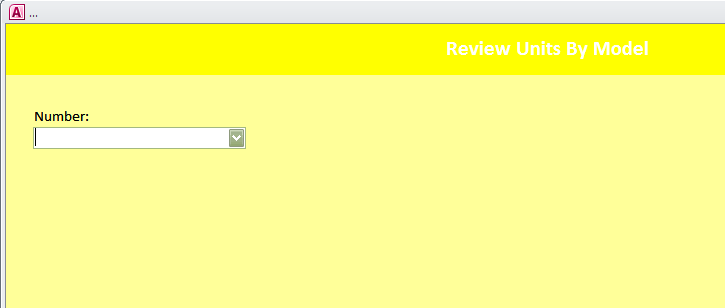 …is unacceptable, aside from being impossible to read.  (Oh, yes there's writing, it's in white!)  To see another example… Roger's Access Blog: Really Bad Design Decisions
Use of Standard Fonts12
Size – no scrolling to see the entire form10
Font size for data entry set to 9pt13

Give Forms meaningful names

Controls on forms should evenly spaced and lined up, i.e.: Close button, if you have one, should be placed in the upper right hand corner.  Users are accustomed to the *x* at the upper right corner, moving the Close, to say, the lower right may cause confusion.

Check the Tab Order

Set Border Size to *Thin*

Set Auto Resize too *Yes*

Set Shorctut Menu to *No*

Set Record Selectors to *No*

Set Navigation Buttons to *No*

Set Min Max Buttons to *None*
 

Buttons…

Uniform Images and/or Captions across all Forms
Reports…
Same as Forms minus the Button and scrolling restriction

Must contain a Revision Version and Date in the lower left hand corner
Queries…
Use of UNION queries sparingly, if at all

Give Queries meaningful names

Use of MAKE TABLE queries sparingly, if at all
 Relationships…
Turn on Referential Integrity Enforced for all Relationships and…

Apply *Cascading Updates* but not *Cascading Deletes*17
2. The Wizard produces useless lines of code and I find it sloppy.  I even use my standard for Navigation Buttons because the *error* message the Wizard produces when you reach the first or last record is useless.
3. Access has Defaults like TEXT, 50.  (Access 2010 sets the Default to TEXT, 255.)  I prefer the field size fits the data that is being entered.  So, for State, where I only want to store the two character abbreviation I would make that field TEXT, 2.
4. While there is an equivalent for the OLE Object on SQL Server, I prefer not to use it.  It takes up space and if I don't upsize could cause the database to reach its 2 GB limit rather quickly.
5. If you used apAssociateID as the PK in tblAssociateProfiles then in tblActivities the field would be call aAssociateID
6. I once spent an hour trying to figure out what AYE Yes/No meant.  It stood for Are You Employed?
7. None of those Data Types transfer to an SQL Server, so using them in Tables is not thinking ahead should the database be upsized.
8. Yes/No fields in an Access table can be empty and translate to contain NULL but not so on an SQL Server.  Once upsized the field becomes a BIT which if NULL will not allow editing or adding to that Table.
9. The only justification for storing calculated values is because you need it for historical for say, invoicing.
10. Scrolling to see additional information in the Detail section is fine.  Scrolling because the entire form does not fit on the screen is not.  Read the applications Profile, which either I fill out or the Client fills out to find out the smallest monitor and make your form fit on that.
11. Tables are for storage not for Data Entry, not even DataSheet view.  Create a form and you can make it look like a table.
12. Tahoma or Verdana.  Whichever one is used it must be the same one throughout the database.
13. While the font size on the form can be 8pt, I prefer 9pt for data entry.  It is easier to read.
14. Using ActiveX Controls has historically caused problems if the End User doesn't have the same version.  There is always another way to do it without an ActiveX Control
15. There are too many stories of how the Programmer left and took all the ADMIN passwords with them.  If you don't want anyone to see your coding then don't use it.
16. This goes double for Underscores.  If memory serves me correctly, this becomes an issue if you have cross paths with Oracle.
17. Data should never be deleted, period, instead hide it from view.  Nor should it ever be pushed to a separate Archive table!
Edit: Green font items were added 9.12.2012 when I realized I had forgotten them!
Edit: Blue font items were added 11.9.2012 when I realized I had forgotten them!
653 total views, 1 views today